RK2's vision of creating cost effective energy efficient solutions is unwavering – the RK2 High Efficiency pumps range include their system pumps, Super Pro self primers and the new 3×2-6 System Pump series offer a wide selection of pumps available for almost every application to deliver high efficiency pumping solutions for aquaculture applications.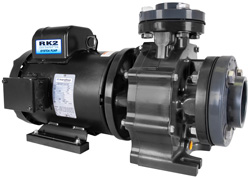 RK2 SYSTEM PUMPS
RK2 High Efficiency pumps – Industrial Grade, energy efficient pump solutions.
RK2 Systems pumps are a high efficiency, industrial grade pump. Ideal for your aquaculture, public aquaria or general transfer and recirculation needs – RK2 High Efficiency pumps from the System Pump series produce excellent flow rates at sufficient pressure (head) to really get the job done. The industrial grade noryl housings are built for long term use. Patented motor shaft seal design provides superior corrosion resistance by protecting metal components by contained fluid in the wet end of the pump and from surrounding environment. A strainer pot may be attached to facilitate priming in a suction lift application and to strain debris from the inflow.
RK2 Systems pump features include:
Industrial duty non-corrosive construction
Outstanding flow to amp design
Highest quality motors made in the U.S.A.
Impenetra Motor Shaft Seals featuring Carbon Graphite Head, Viton® Trim, Ceramic Mating Ring, Polypropylene Case
PVC encapsulated stainless steel shaft
316 stainless steel hardware
1/8HP – 3HP models
Low heat transfer, extremely quiet and energy efficient
TEFC standard enclosures on all models
50Hz and many voltage configurations available
Option to choose single phase or three phase motors
Design
All RK2 Systems pumps are molded out of high-quality glass-filled Noryl®, which gives it many advantages. It is completely saltwater resistant, has excellent tensile strength, very low water absorption, and a continuous temperature rating of 194° F. Engineered for high efficiency, our enclosed impellers will accommodate a wide variety of flow rates and pressure requirements.